Hours: 6 am to 10 pm year round
Fees: Yes, required
Restrooms: Yes
Picnic Tables: Yes
Camping: No
RV Sites: No
This is an US Army Corps of Engineers park.
Westlake Park a huge park with amazing views of Lake Lewisville and the Lake Lewisville bridge. There is plenty to do in this park including swimming, fishing, and relaxing. This park is also connected to beautiful Oakland Park and the $4 entry fee gets you into both. We cannot say enough about these two parks.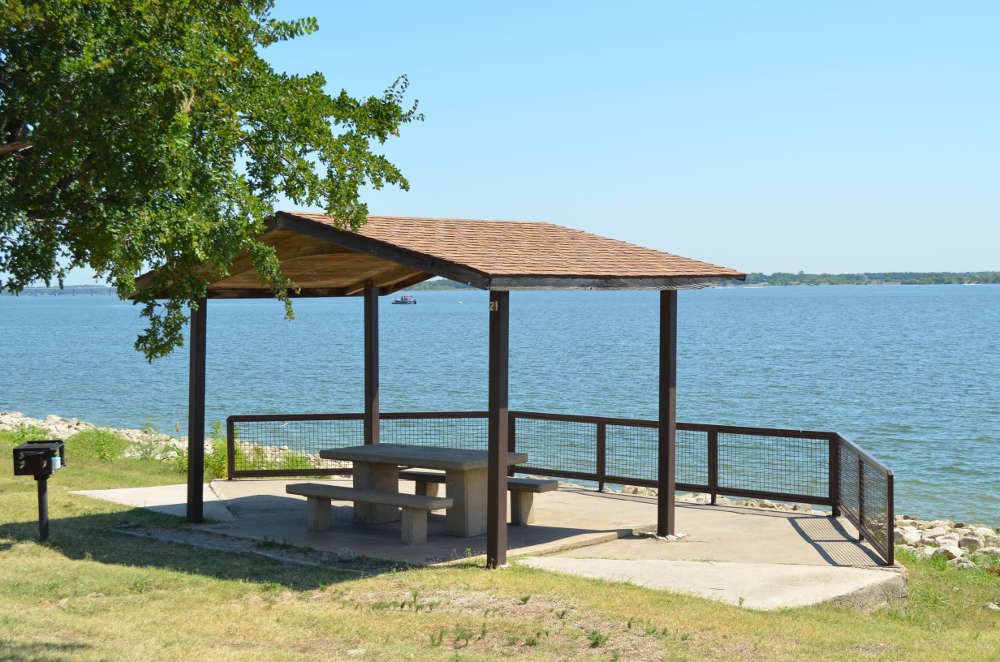 Westlake park has plenty of parking and a bunch of covered picnic tables that are close to the water (maybe close enough to fish from). These picnic tables look great and have great views of the lake. There are also four pavilions available for rent.
There is a smallish boat ramp in Westlake Park with a nice boat dock. It is on more open water than the Oakland Park ramp which is not that far away. For my boat, I would use Oakland Park first if possible.
Westlake Park is a day use only park located in Hickory Creek, Texas off of Lewisville Lake and is jointly operated with the Our Lands and Water Foundation.
Westlake Park is also the closest park to Lake Lewisville Party Cove.
Amenities:
• Picnic tables with grills
• Four pavilions for rental at the park gatehouse
• 4 Restrooms
• Shoreline access for fishing
• Swimming beach
• 2 Boat ramps with adjacent docks
• Long parking spaces for boat trailers
• Gate attendant controlled access
Use Fees:
Day Use Fees are are required for entry into the park.
Pavilions:
Four open sided pavilions are available for rent in the park. Each pavilion is within walking distance of a bathroom and has a large grill, water and electric hook-up. Advanced reservations for the four pavilions can be made at www.recreation.gov or same day reservations can be made at the park gatehouse.
Cottonwood Pavilion
Bur Oak Pavilion
Green Ash Pavilion: 75-100 people
Blackjack Oak Pavilion
Westlake is open 6 am to 10 pm year round. Entry into the park is not permitted outside those times.
Address:
East Main Street in Hickory Creek, Texas.
Phone: 469-645-9100
More information on Westlake Park is available at the US Army Corps of Engineers website.
Note: all fees are subject to change without notice. Please check with the parks directly or with the gate attendants for all official pricing.